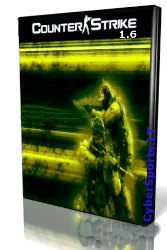 As CS fan for many years I couldn't resist of trying new 1.6 2021 update version. Here are my thoughts of it, here we go.
So first of all, let's talk about higher resolution. That's probably first thing you will notice turning on this game.
In general game view more clear, brighter and you can notice proper improvements done to it comparing with previous versions.
No actual changes where done to already existing things, but new and improved resolution let's us see them from a different angle.
Visual difference comparing with other versions - better. Backround visuals turn out to be more clearer - no more blury lines when you zoom in.
It gives more sutle look to the whole vision. Sound effects improved as well. We don't hear anymore robotic - like shooting or running.
It's more realistic with some added new bits to the bunch. Characters visual presentation and turn over in this version very promising as well.
My first view towards guns, knifes, bombs ect, left very good impresion. It looks more improved and upgraded, new version of it is more realistic.
Seeing over all improvement to this version is very promising, however, but it's minor compared to things that's already been done.
Creators done well in upgrading older version that everyone loves, but a bit more was expected in implementing something new to it.