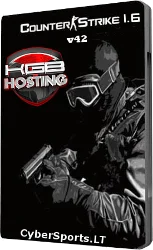 When Cs 1.6 game appeared, was formed in Serbia KGB gaming community.
This community brought together a group of people who developed www.kgb-hosting.com, www.gametracker.rs, www.kgb-hq.com web pages for more information about counter-strike game and offered CS servers for game.
KGB gaming community also gathered their Counter-Strike 1.6 version of the game which is called Counter-Strike 1.6 KGB.
This game is assembled with v42 and v48 patches.
The game has KGB background, exciting game menu, smart bots, HD player models, HD ammunition and weapons.
While playing Cs 1.6 game it seems played other game.
In this version of the Counter-strike 1.6 KGB created by Serbian KGB gaming community, there are number of changes that make the game easier.
Changes in the game:
Protocol 48 Non Steam patch version 42 (Orange Box);
Game hang no problem when click on options in game menu;
Compatibility with Windows 7/8/8.1/10/XP/Vista / x86 bit and x64 bit;
Client can join P47 as well as P48 servers ;
Added zBot's commands;
Added professional commands key for easy to use some commands;
High quality game menu fonts and colors;
New revolution emulator 9.85;
New Fenix LT masterserver ( play online in Cs 1.6 servers);
New Dproto 0.9.179 (Client can join P47 as well as P48).