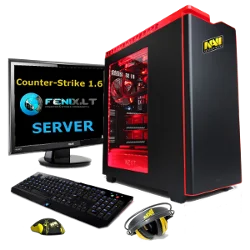 Choose favorite Counter-Strike 1.6 version of the game, download it from the site, install game installer file to your computer, make yourself appealing to the server and go kindly and have a good time playing this legendary game.
In the Cs game, the Fenix.lt master server is added.
When downloaded Cs 1.6, through search servers, you will find Cs servers list according to the desire and taste, which are constantly updated.
Fenix.lt server is stable with a lot of players and maintain a stable FPS.
The Counter-strike 1.6 server can be purchased with privileges such as super admin, admin, vip.
Fenix.lt server also has a database of bans and a forum.
Servers on and running 24 hours a day.
Cs 1.6 Deathmatch server.
Deathmatch mean "deadly battle" or "battle to death".
This is a multiplayer computer game, the main task of which is direct opponents destruction.
Deathmatch regimes have no ally or other goals.
Constant participation in Counter Strike 1.6 on DeathMatch servers improves your gaming accuracy.
Regularly playing, gradually develop their shooting skills and be able to quickly find visible results.
Use different weapons to experience the shooting with each one, if necessary.
Cs 1.6 Public server.
The public server is the classic original Counter-strike 1.6 server that has the greatest popularity.
The purpose of this type of server game is counter-terrorists fight against terrorists.
Depending on the type of map, CT (counter- terrorists) have to neutralize the bomb, save hostages and T (terrorists) to mine the base or to kill hostages.
Time is limited by server settings.
Usually, the public server uses standard cs 1.6 game maps such as Dust, Dust 2, Inferno, Nuke and others.
Cs 1.6 CSDM server.
CSDM server is a deadly battle mode in which the game is played without break.
The player who died instantly rises from the dead and the game continues again.
CSDM servers have two modes: normal mode and FF (Friendly Fire ON) mode.
FF (Friendly Fire ON) mode, each player plays for himself, regardless of the team, they can kill team members.
You can not kill your team members in normal mode.
Killed only other team members, when kill enemy then get points.
The game objective for each mode is the maximum accumulation number of frag.
The winner is the player who has the most points at the end of the map.
To increase the accuracy of shooting from any weapon, CSDM servers are what you need.
Cs 1.6 GunGame server.
The GunGame server is the server where the enemy team is killed.
The killing of an enemy gives you points that give you a new, more powerful weapon.
Beginning of the game the player has the weakest weapon.
When you kill the required number of enemies, you get another powerful weapon.
And it continues until you reach the most powerful weapon with which you have the advantage over the remaining players.
In Counter-Strike 1.6 GunGame servers can practice shoot straight out of different weapons.
Cs 1.6 Knife server.
Knife server is a server where you can kill an enemy with knife only.
Map game usually begins without all life (HP), that would kill the possibility of a single blade angle.
This mod was designed for workouts and blow-ups for knives.
It is especially interesting to play a team game on such servers when it is possible to play 3 vs 3 or more players.
In knife server is not possible to buy weapons, grenades and ancillary equipment.
The team that killed all the other team members with a knife won the round.
Cs 1.6 Only Dust2x2 server.
Only Dust 2x2 server is a server that plays only the main de_dust maps.
For all old and new Cs 1.6 players are very well acquainted with the Dust maps, which are simple.
For beginners Cs 1.6 players, Only Dust2x2 is a desirable server to learn tactics from older players and improve shooting skills.