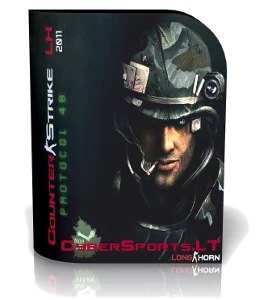 Counter-strike 1.6 LongHorn 2011 version created in 2011 created by Long Horn.
This is a brand new game collection that is different from the usual Cs 1.6 game collection.
The game includes original models of the player, weapon and ammunition.
The version had some problems with the graphics, but the builders managed to fix them.
This version has a new steam patch that has eliminated the problems and now steam patch works perfectly without problems.
Counter-strike 1.6 LongHorn 2011 version has a number of changes that make this version of the Cs 1.6 game more beautiful and interesting.
If you liked this counter-strike 1.6 assembly, you can download it by clicking on the direct link or torrent file download link.
Game LongHorn 2011 features:
Protocol 48 Non-Steam;
Exe version 1.1.2.6/2.0.0.0;
Exe build: (4554)
Fenix MasterServer(Play Online);
Latest REVOLUTION emulator 9.8.3;
LongHorn GUI Version 3 (graphical user interface);
Command menu (game settings, Mp3 player, useful stuff, server stuff, demo record);
New logosprays;
Demo loaded button in game menu (easy to play DEMO);
Option to launch listen server in LAN mode;
Playable on LAN and internet;
The original character models and weapons;
CD/Key NOT required;
Clean rip from original files with these exceptions;
Ads are removed;
Installing, running, playing.