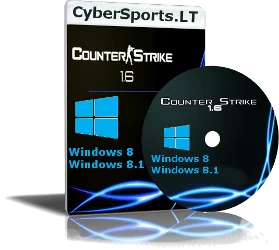 Technology is developing rapidly and it has a significant impact on the game. There are games that we want to play regardless of their age, because they give us pleasure.
One such game is Counter-strike 1.6 . However, recent players encountered a serious problem: the game does not run with the operating system Windows 8 / 8.1. All previously released CS 1.6 nodes simply refuse to work permanently and the game fails.
The problem was solved and released a stable version of the game that runs on the windows 8 operating system. Files such as hl.exe and dll.exe have been modified. Also newly developed and improved game pach was added to the new Cs 1.6 assembly.
All of these changes have been proven and there are currently no issues with running Counter-strike 1.6 with Windows 8 or Windows 8.1. You can now download CS 1.6 for Windows 8 or for Windows 8.1 for free.
Choose the best download method: direct link or torrent file. Download Counter-strike 1.6 for Windows 8 or 8.1 and play the game without problems.