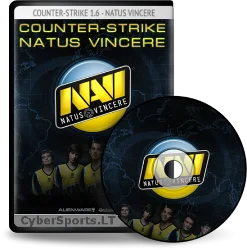 Na'Vi (Natus Vincere) translated from Latin - born to win.
In 2009, a team from Ukraine, which for the first time in history has won 3 main esports tournaments per year (Intel Extreme Masters, Electronic Sports World Cup and World Cyber Games 2010), has been formed.
They won against teams such as SK Gaming, Fnatic, UNITED, Mousesports.
The team consisted of:
Daniel Zeus Teslenko (Harkov);
Ivan Edward Suharjov (Harkov);
Sergey Starix Ischuk (Kiev);
Arseniy ceh9 Trinozhenko (Lvov);
Egor Markeloff Markelov (Dnipropetrovsk).
2010-2012 team played 38 tournaments, of which they won 15.
In addition to all of these results in 2010 Egor Markelov "Markeloff" won the Best Counter-Strike 1.6 player title.
cs 1.6 Na'Vi is a game that is thoroughly adjusted and which will allow you to reach the highs while playing counter-strike 1.6 against other players.
Counter-strike 1.6 Na'Vi assembly is original, which is without modifications and includes several changes.
In the new Cs 1.6 assembly, the new menu has been fixed.
The new color menu has also been updated and now the entire game text is perfectly visible.
The cs 1.6 Na'Vi client is completely translated into Russian and Russian conversations have a nice menu design.
Game features:
Protocol 48;
Non Steam patch version 44 (Orange Box);
Works with Windows 7, Windows 8, Windows 8.1, Windows 10, Windows XP, Windows Vista;
Na'Vi team members background;
Translation to English;
Protection from game crash, viruses and ads;
Hands, gaming and weapon models made in the author's style Na'Vi;
Very powerful bots, which show themselves pretty effectively in the game;
Stable and high-quality search servers;
Size - 182 MB.