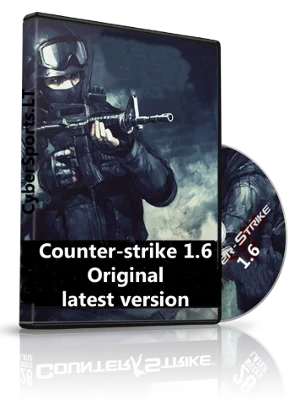 Here you can download the latest, free and full version of Counter Strike 1.6 with bots.
The latest version of Counter-strike 1.6 is free , without registration and without sending SMS.
Our Cs is completely original: standard weapons, menu, sounds and player models.
With Gold Sourse [Half-Life 1] engine has achieved the highest productivity.
The game is different from the old version of Cs 1.6 , because it has improved texture and made more realistic sounds, so it surpasses the old original.
Left unchanged menu of the game, but was corrected errors.
Many servers will be able to find through search server operating system.
You will can to play with your friends by creating your own Counter-Strike server.
The game works well with all OS (operating systems).
When better to use to download cs torrent file, and when it is better to use download cs direct link?
To download Cs torrent file is most useful if your internet connection is slow.
With torrent program, you can pause and resume the download whenever you want.
Here you can download the game using Torrent program, or through direct link.
Counter Strike 1.6 original latest version game features:
New patch update;
Non Steam patch version 44 (Orange Box);
Dual protocol (48 + 47) client;
Removed the transparency of the game menu to increase FPS on old computers;
Version of the game has been updated to the latest version of the protocol 48 (build 4554);
Included latest CS 1.6 bots;
Included new realistic sounds;
Tweaked all sorts of bugs in the game Gold Sourse [Half-Life 1] engine;
Anti slowhack tool included;
Playable on Internet and LAN;
Work Internet bookmarks and Favorites;
Fully working serverbrowser with MasterServer;
Compatible with Windows XP, Windows Vista, Windows 7, Windows 8, Windows 8.1, Windows 10;
Downloading 1-2 min.