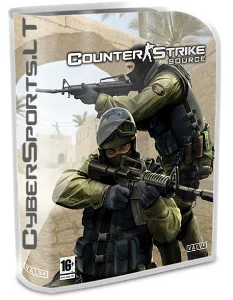 This Counter-Strike 1.6 Edition is made by Counter-Strike Source.
The radio, hostage models, hand, gun models, sounds are the same as the Source game.
This version of the game has many features that are not available in the standard Counter-strike 1.6 version.
As with the standard version of Cs 1.6, the player will be able to play with zbots when they will have problems with the Internet or simply want to improve their skills.
This is especially important for beginner players.
This version of Cs 1.6 is an almost exact copy of CS:S and is your ability to download and try it by clicking the direct download link or by clicking the download torent file.
Cs 1.6 source Edition creates the atmosphere of a CS:S game.
The game managed to retain all aspects of the new version, but remained as simple as Counter-strike 1.6.
Game Cs 1.6 Sourse edition features:
CS:S player models;
CS:S hostage models;
CS:S hands and weapon models;
CS:S sounds;
New Steam patch version 42.1 (Orange Box);
GUI and HUD from Counter-Strike Source;
zBots included (Control: "H");
Fenix.LT MasterServer(Play Online);
Compactable with Windows XP/Vista/Win7/Win8/Win8.1/Win10;
Protocol 48 - not required CD/Key.