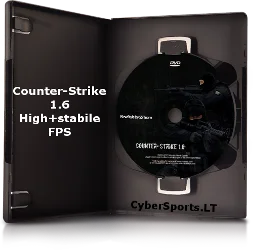 What is FPS? FPS is frames per second or number of frames per second.
FPS has a great influence on the CS 1.6 game , because it depends on how quickly you see your opponent.
The higher the game's FPS, the faster you see the enemy.
It is very important to download the configured Cs 1.6 game.
The game with good configuration will have a high and stable FPS.
If you have an old PC, it is advisable to upgrade your video card drivers and configure it a little bit:
Anti-aliasing- off;
Antisotropic filtering- off;
Image settings- high performance;
Vertical Sync- off;
Refresh rate- the highest, within the limits of the computer monitor.
If you have a new PC is enough to make the Vertical Sync is turned off.
When Cs 1.6 game is well configured, the new PC FPS is about 100, and an old computer about 60 FPS.
Such FPS is sufficient for a good game without lag.