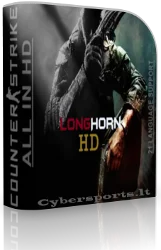 Counter-strike 1.6 LongHorn HD has appeared in full HD (high definition) format.
Upgrade all player models, weapons, ammunition, hostages and sounds.
This CS 1.6 HD edition is very powerful, so it will give the player new experiences in playing the game.
In addition to the completely new Cs 1.6 HD model package, all standard maps have been completely redesigned and added bots. The reconstruction was done very well and it really works.
This Cs 1.6 LongHorn HD is completely protected against any intrusion, advertisements, unnecessary links and ads.
Download Cs 1.6 LongHorn HD and dive into the new world of HD.
Game features:
Latest engine update (1.1.2.6 build 4554);
Non-Steam patch version 44 (ORANGE BOX);
Multilanguage (21 language support);
HD player models;
HD weapons models;
HD maps;
New sounds;
Included zBots (control with button H)
Some HUD redesign & radar;
Professional keyboard commands;
Multiplayer professional advanced commands;
Size: 342 MB (1-3 min to download).