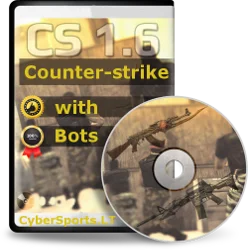 This Counter Strike 1.6 will allow you to play a game with bots.
This is a version that is made according to the original version of the classic game.
The game has a standard menu layout, standard sounds, standard weapon models, and standard bots.
Cs 1.6 bots are controlled by the letter H.
Download CS 1.6 with bots, this does not mean downloading Counter-strike 1.6 without the ability to play the game online.
This counter-strike 1.6 with bots version have the most effective game client protection.
For better security, it is recommended to play only servers that are located on the server search.
The list of high-quality servers is constantly updated.
Since this cs 1.6 assembly has bots, it means that the internet is not required to play the game.
The best practice to train and find out and understand game maps is a game with bots.
Note that this CS 1.6 assemblage is completely original, so the game is handy, which is only available for the version of the game that is made on the base of the steam.
Game features:
Original design;
Original Gaming Models;
Original arms and arm models;
Original config (CFG by default);
Bots control: H button;
Protocols 47-48;
Protection against intrusion;
Protection from advertising;
Active server search, where the server list is constantly updated;
Works with all operating windows systems;
Quick download installation file (1-2 min.)