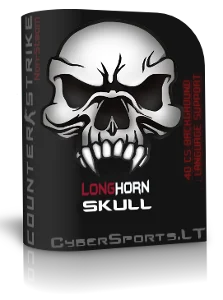 Counter-strike 1.6 LongHorn skull is a great job for the creators of Long Horn.
The assembly has made a number of changes that should appeal to counter-strike players.
An important change was made in the textures of the game.
The exclusive background was created specifically for the Cs 1.6 LongHorn skull game.
The perfect color gamut has been selected and has been optimized.
The collection game font is made very legible.
If player has a very small screen resolution, he will be able to easily read words that will be written in the chat window or in the main menu.
There was also an improved schedule for this client.
Now not only the textures of the game are made of HD quality, but also weapons, amunition and players.
Cs 1.6 LongHorn skull features:
HD weapons models;
Some HUD redesign and radar;
Professional keyboard commands;
Multiplayer professional advanced commands;
GUI red and black;
New game startup;
New spectator GUI;
Changed the model and texture of the hands;
Changed player models, guns and amunition;
Included in the new installer realistic sounds;
Playable on internet and LAN;
Work internet bookmarks and favorites;
Download , install and play.