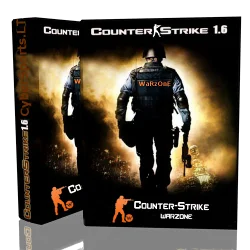 Counter-strike 1.6 WaRzOnE released on November 18th, 2013.
This is a great Cs 1.6 version with bots for audio and video enhancements, which you will not see with the naked eye.
The cs 1.6 WaRzOnE game is made with a dual protocol (47 + 48).
So Valve Corporation did this because the client could connect to steam and no steam servers.
The Cs Warzone game is packed with clever bots that are controlled by pressing the letter H.
The Counter-strike 1.6 WaRzOnE game is available for download on our page.
Download and you have not some kind of problems with the game.
The Official Counter-Strike 1.6 WaRzOnE game page is www.cswarzone.com.
Game features:
Add the latest cs 1.6 bots;
Double Protocol (48 + 47);
The client can connect to the P47 and P48 servers;
Non-Steam patch version 44 (Oeange box);
Dedicated and Listen Server (Steam and Non-Steam);
Working server browser with Internet and LAN tabs;
Protection against all types of hacking;
Included the latest Metamod-P v1.21p37;
Included the latest AMX Mod X v1.8.2 which is by default disabled;
Engine version (1.1.2.6 build 4554);
Can be played online, LAN or with bots;
Working with all operating systems (OS);
Size - 177 MB.